Starlink Flat Mount Conversions and Installs Melbourne
Introducing the sleek and durable flat mount solution for your Starlink system manufactured by Outback Comms. We install these flat mount systems which are crafted from High Density Polyethylene (HDPE), offering a more stylish and set-and-forget style install for the active traveler.
Whether you prefer to mount it on your roof rack, canopy, ute, van, hybrid camper, or mobile office, this versatile mount is designed to fit your needs and we can work with your existing roof real estate to work out the best install, or flat mount convert your existing kit to make it easier to store and continue using as postable Starlink with the added bonus of been able to place it flat on your roof and remove it when you like.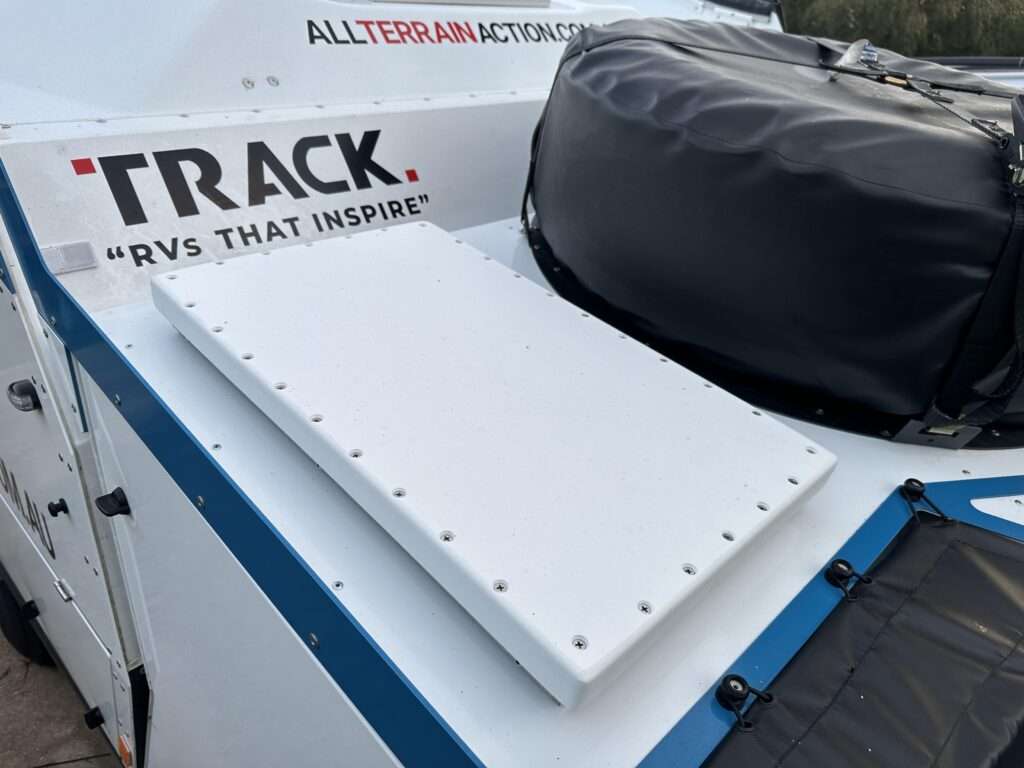 With the HDPE case, your dishy is shielded from hail, birds, and rocks, ensuring its protection in any environment. The waterproof flat mount provides a secure and weather-resistant enclosure for your Starlink system. We offer the flexibility to configure the cable entry on either side or the bottom, allowing you to customise the installation according to your requirements.
The dimensions of the flat mount case are 550Lx340Wx35H (mm), providing a compact and space-efficient solution. However, it's important to note that using this mount requires modification to your Starlink, which will void its limited warranty. Despite this, our flat mount has excellent performance and allows for a flat installation of your Starlink system.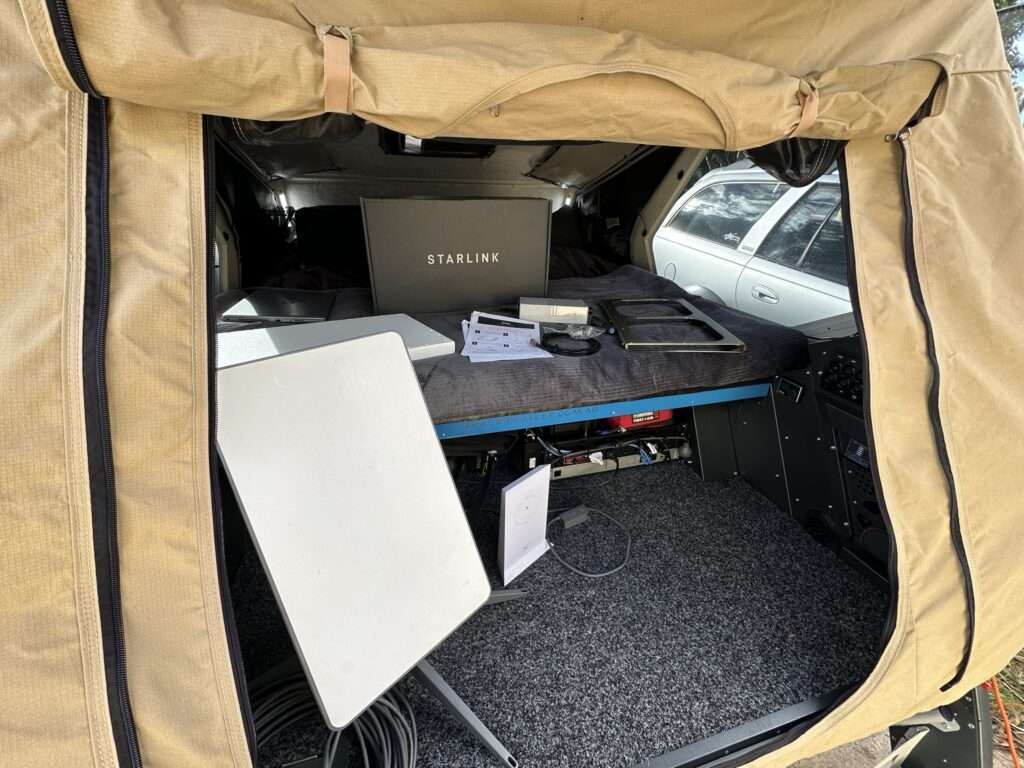 No Setup or Packing Required, Just Turn On and Use!
There are numerous factors that lead people to switch their standard Starlink systems to flat mounts. The primary motivation is the convenience of avoiding the setup and packing process, along with the requirement to store it securely while traveling.
Just picture yourself on a journey and finding yourself in an area without any signal. With a flat-mounted Starlink system, you can easily stop your vehicle, activate it within a couple of minutes, and gain access to the internet right there on the roadside.
This proves especially beneficial for utilising maps or communication purposes. In certain scenarios, like ours, we don't even have to step out of our car to activate our Starlink system!
Unlock More Efficiency: Direct 12V Power Supply
Experience a significant boost in power consumption efficiency by eliminating the need for 240V AC power requirements.
In our trials, we've observed a remarkable 30% improvement in power draw when utilizing Starlink on 12V systems.
Many users rely on inverters and similar devices, which introduce power efficiency losses when converting from 12V DC to 240V AC, only to have Starlink internally reduce the voltage back down to 48V DC.
By employing simple 12V DC step-up adapters, you can directly operate your Starlink system on 12V DC power, resulting in reduced power draw on your batteries and longer operating times.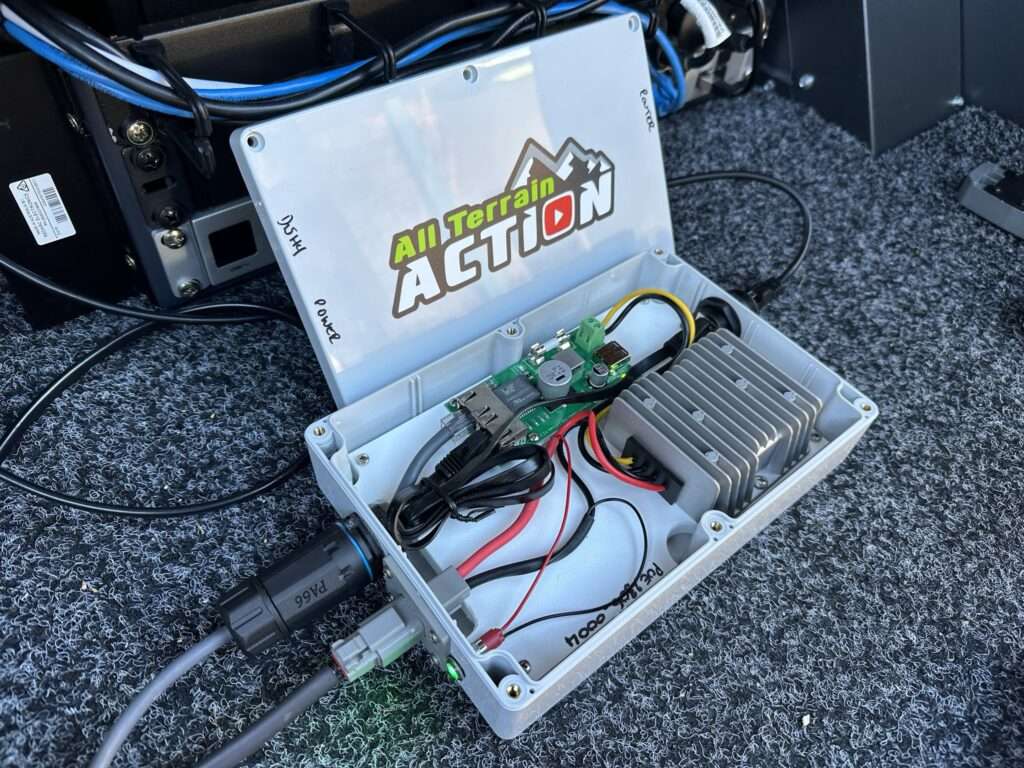 Reach out to us today and take the first step towards transforming your Starlink system with our flat mount conversion and installation solutions. Our expert team is ready to provide you with a seamless and hassle-free experience, ensuring your Starlink system is optimally mounted and set up for maximum convenience and efficiency.