Sometimes Supercheap and Autobarn just have the wrong part listed. This is the real correct list and part numbers for your Adventra. If we have used it, it is listed here which gives you 100% certainty its correct. Never buy the wrong part again!
Support us today for a few dollars a month here!
I don't have a full list yet but as I discover and use parts for stuff on our Adventra's I will list them here, any items here will fit a 2005 Holden Adventra V6 LY7 unless otherwise specified.
If your stuck we can help you diagnose problems with your Adventra relating to…
ECM/ECU Repair/Relink
Brake Upgrades/Replacements
Fuel Filter/Pump & Sender Replacements
Factory to Lifted Suspension (Shocks & Springs)
Auto Electrical Wiring (relays, lightbars, switches, thermal fan overrides etc)
Inspection of unusual noises in suspension to help identify fault.
Differential fluids servicing.
Unusual standard modifications.
All support is enthusiast based only and community driven, no guarantees or warranties with any work or services provided paid or unpaid by All Terrain Action.
All items here are reputable aftermarket or OEM, I will never list an item that is inferior or did not manage to do the job to our off road expectation.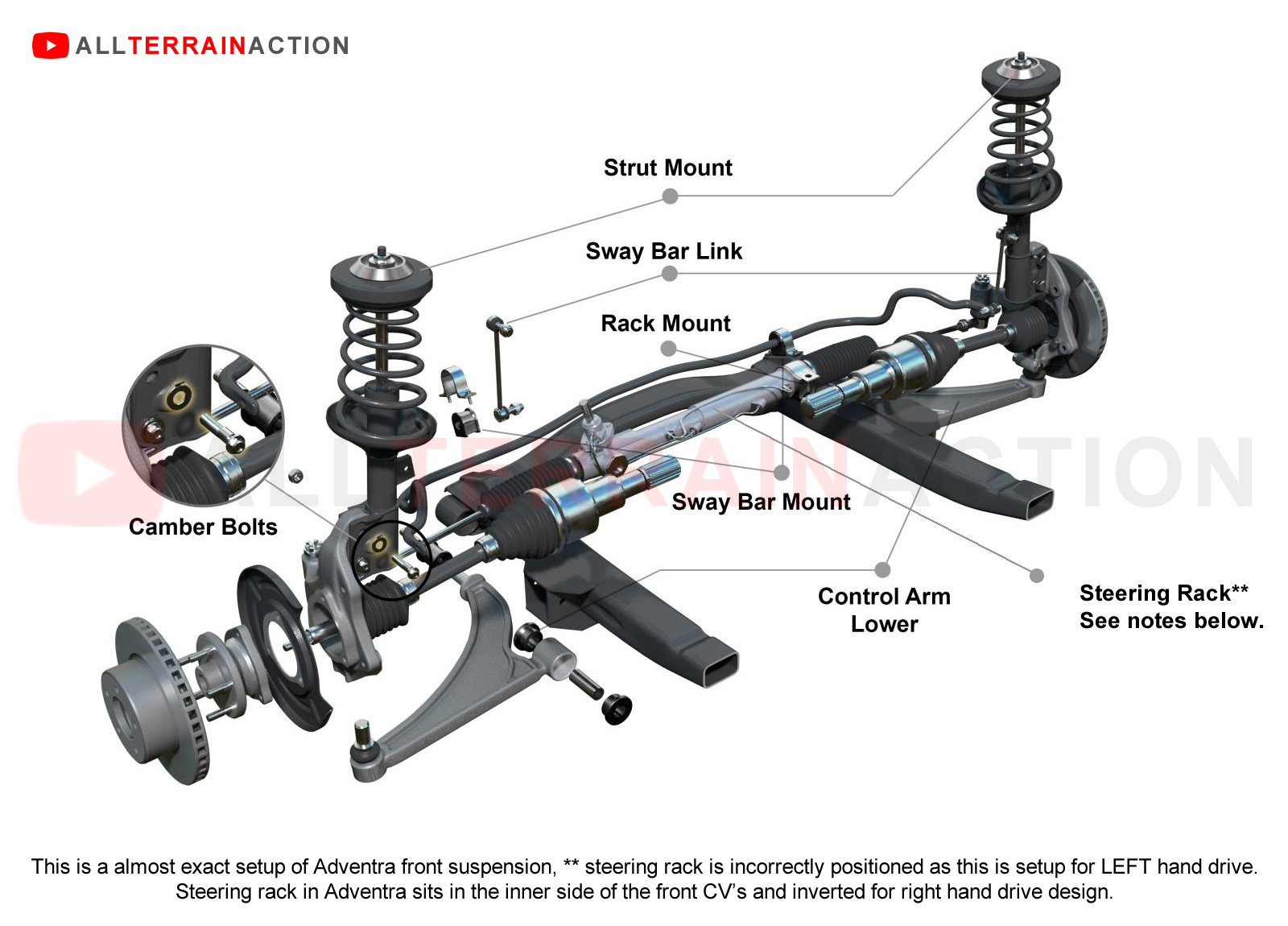 Front Axle CV Boots
GM 92147162 & 92147165
Front Spring
Promo Vehicle Uses KINGS KHFR-64 20mm raised (Progressive Springs)
Off Road Vehicle Uses Pedders 7819 30mm raised (Linear Springs)

Front Strut Tops
Polyelast PE104SS-KIT $200 (Recommended for off-road, salt-resistant conditions) BEST OEM+ OFF-ROAD REPLACEMENT
Polyelast PE104-KIT $150 (Standard OEM Replacement) BEST OEM REPLACEMENT
KYB KSM7145 $45 each (buy 2 for kit) (Standard OEM Replacement, Road Conditions, Light Off Road) ALTERNATIVE OEM REPLACEMENT
Front Shocks
Monroe GT Gas Shock Absorber RIGHT 35-0663 ~$175 ea
Monroe GT Gas Shock Absorber LEFT 35-0664 ~$175 ea
Front Sway Links
Kelpro Sway Links 22771 & 22772 fit the VZ Adventra front shocks, you can also use this same set for VY II Adventra if you change to the VZ style shocks. Please note on our discovery 22771 does not have an Allen keyhole, as the 22772 does for whatever reason but you can get it on using multi-grip pliers to hold it while turning the nut on. Should be able to find a pair under $100 delivered.

Alternative more heavy-duty ones from Whiteline KLC140-295 which are around $220 a pair delivered. They are adjustable up to 25mm with a 10mm bolt and can be adjusted after installation. The length range is 290-315mm range we run these on our main off-roader.
Front Bushes
Polyelast PE109-KIT

Front Tail Shaft CV Boot Kit Adventra
GM 92147165
Front Spring Spacers
Superpro SPF2365-5K 5mm ~$30 (Contains Single Only Purchase 2 for L&R)
SuperPro SPF2365-10K 10mm ~$35 (Contains Single Only Purchase 2 for L&R)
Front Lower Control Arm Bushes VZ
GM 92112589
Front Wheel Bearings
Hub Kit H4842F contains 2x 4842 Bearing Hub Units (NSK) ~$550
MACE PERFORMANCE MANIFOLD INSULATOR KIT TO SUIT HOLDEN ADVENTRA VZ ALLOYTEC LY7 3.6L V6
Monroe 35-0663 ~$150 Driver Side Shock (does not come with a boot)
Monroe 35-0664 ~$150 Passenger Side Shock (does not come with a boot)
KYB SB5196 $55 Each KIT includes 1x Strut Boot, 1x Bump Stop (Buy 2 for Both Sides) Purchase Here
Warning Not Correct Part for Adventra even though Monroe list it as compatible: Monroe PK004 Suspension Bump Stop & Strut Boot

Upper Strut Bearing Retaining Nut – 78 Nm
Upper Strut Locating Plate Retaining Nut 55 Nm
Steering Rack Housing to Crossmember Cradle Mounting Bolt Stage1 60 Nm Stage 2 Turn through 50 degrees
Steering Linkage Tie Rod to Outer Tie Rod End Lock Nut 65 Nm
Steering Knuckle To Strut Attaching Nut Stage 1 85 Nm, Stage 2 100 Nm, Stage 4 Turn through 90 degrees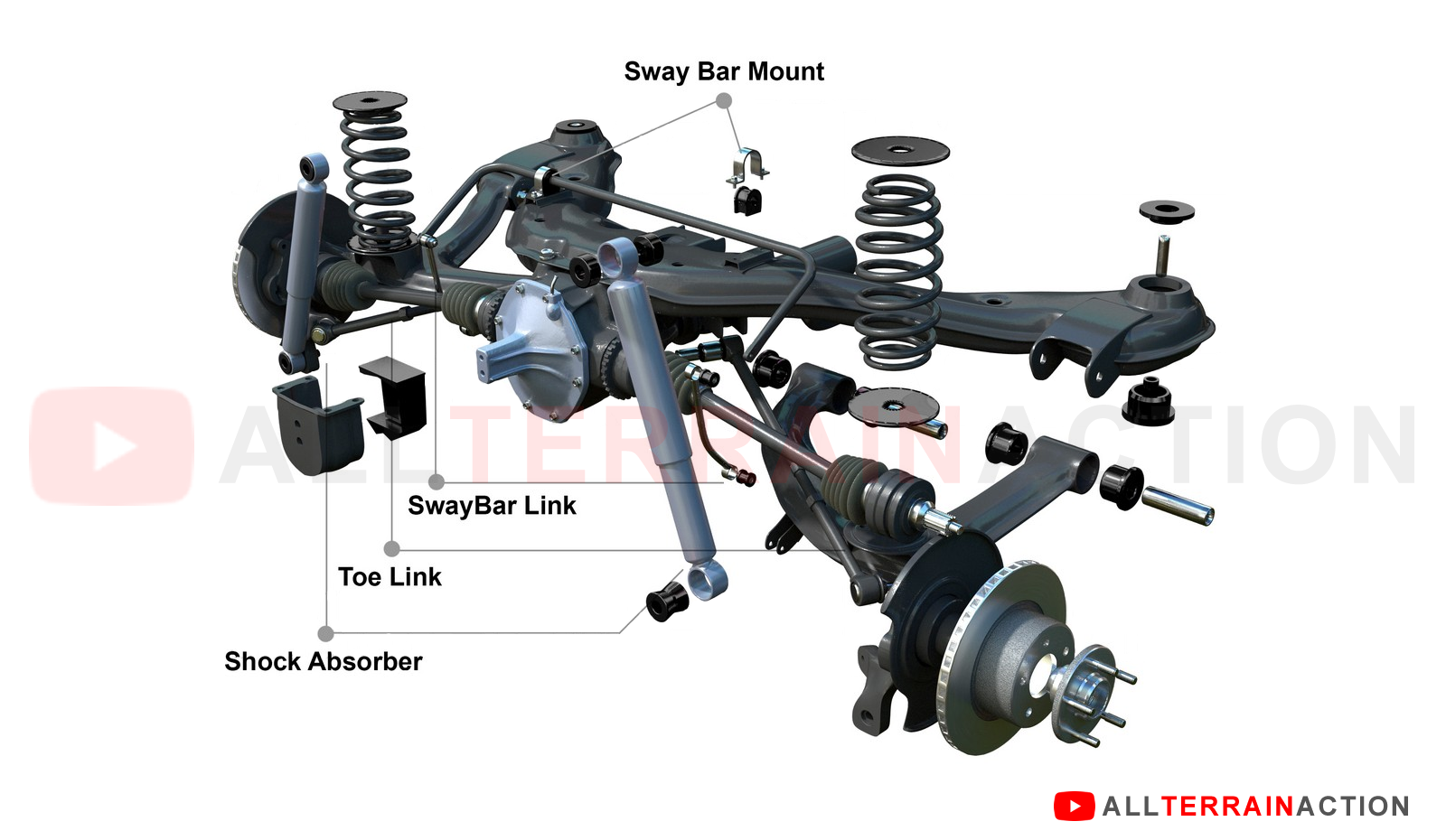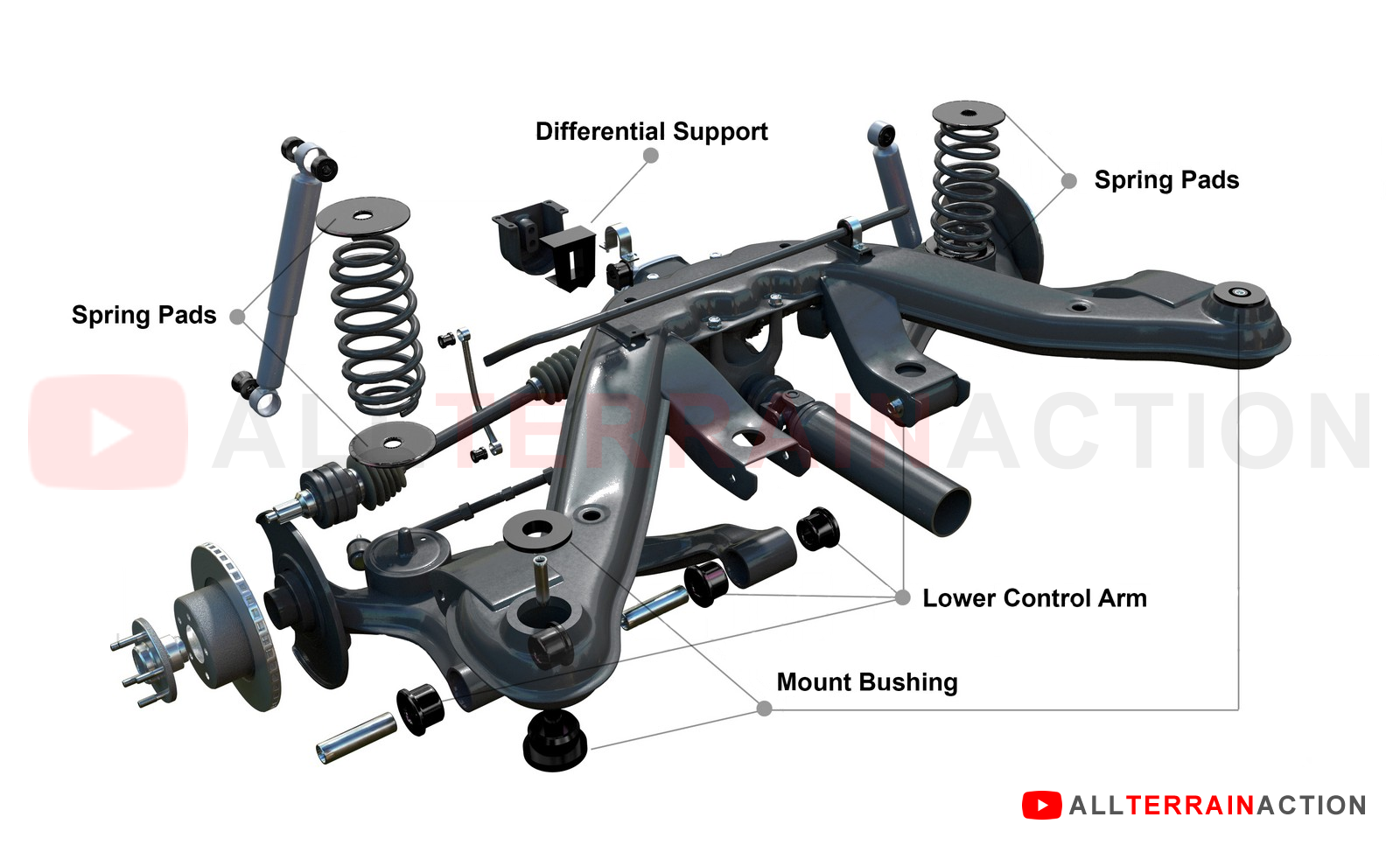 AFTERMARKET Rear Suspension for extra shock travel
GM 92140089 Shocks direct fit structurally, however you will need modified airline connectors. Contact me for a referral for fabrication, to work with existing level ride air compressor pump.
Rear Spring Spacers
Superpro SPF1358-10K 10mm ~$30 ea (Contains Single Only Purchase 2 for L&R)
Whiteline W72044 14mm ~$40 ea (Kit Contains L&R)
Rear Shocks
LX Models Only – Monroe MGR-165+ ~$300 Direct OEM Replacement (air valve off level ride will interchange and fit directly onto these with no modifications – price is for pair).
SX/CX Models Only – Monroe 15-0667 you can use these in the LX models if you no longer wish to keep the level ride air leveling system, you must pull the plug to the air compressor though so its not left running though, the fuse is shared with interior lights & rear windscreen wiper so can't just pull fuse either.
Rear Spring
Home Vehicle Uses KINGS KHRR-65 20mm raised (Progressive Springs)
Off Road Vehicle Uses Pedders 7818 30mm raised (Linear Springs)
Rear Level Ride Pump (Compressor)
GM 22175325 ~$500 I have not been able to find any aftermarket variants that fit.
Monroe AK29 Shock Absorber Air Hose Kit (for air lines, adapters etc off level ride pump)
Rear Brakes
Bendix Brake Shoe BS3218 or RDA R2216 fits both Adventra VY 5.7 V8 AWD, VZ 3.6 V6 AWD
Park Brake Shoe – GM 92140425 x2 or Banksia RDA R2216 kit aftermarket option. Expect around $100 for a pair.
Engine V6
GM 12587093 Purge Solenoid Valve ~$120

Alternator notes about top brand differences; Bosch and Holden OEM (ie Mitsubishi Electric) is that Bosch has a ratchet pulley – ie if you rev the car up and change gears at 6000rpm, the alternator does not suddenly go from 6000rpm to 2000rpm, it continues to rotate and slow down on its own account until it catches up with the belt at 2000rpm in terms of how that results in longevity I do not know, but I can see why a ratchet pulley style would be ideal for anyone who drives hard regularly, especially in the v6 where you the alloytec just loves.. to climb revs.

Harmonic Balancer
Removal: We have used the cheap 3-jaw puller will remove the balancer fine, screw holes line up, and correct screw sizes. We also have tried to use the MACE Engineering harmonic balancer puller, but it does fit the twin pulley harmonic balancers we have on the Adventra LY7s so don't waste your time. Install: To press back on, do not apply heat or use excessive impact force instead get an m14x1.5 bolt that's fairly long. Wind bolt in, then use a spanner to wind nut in, once firmly on then torque up the crankshaft balancer bolt as per the below item.
Purchase GM 11549124 Balancer Bolt and Install Press Kit Here

GM 12588222 Crankshaft Balancer (aka Harmonic Balancer) but do not stock anymore alternative is now POWERBOND HB1506N OEM Spec Aftermarket Harmonic Balancer (Twin Pulley) to suite Adventra & Cross6 Crewman Alloytecs. ~$400 + postage.
GM 11569873 (or alternative available Crankshaft Balancer Bolt GM 11549124) which is needed if you remove the existing bolt, are torque to yield bolt, so they should only be used once. If you must reuse, apply thread lock as a hack, but if you want to do the job properly reuse old bolt, and purchase another bolt, once it arrives swap them over, and torque to step 1. 100Nm and then step 2. additional 120 degrees.
ECM Repair/Fix for Common Injector Misfire P0201,P0202,P0203,P0204,P0205,P0206, Engine Start Failure & Other Common VZ ECM Failure Signs.
PEC Australia will repair/refurb your ECM for $520 swap over ECM.
Oxygen Sensor V6
Front GM 12575904 (BOSCH 0258007200 0258987003) ~$200 a pair 5 Wire Sensor 375mm
Rear GM 92210450 (BOSCH 0258006743 0258986727) ~$150 a pair 4 Wire Sensor 400mm
Radiator/Cooling
Replacement Radiator Cap – Tridon CW18125 $25 05 Alloytec Only – If your radiator is boiling, overflow bottle is pumping coolant out randomly, but on flat tarmac drives normally mostly, cap replacement may fix 9/10 senarios.
ADRAD Brand Alloy Radiator OEM Replacement $150 – Buy inlet and outlet hoses as a minimum to replace when changing radiator.
Gates Radiator Hose Upper – 05-1892 $30
Gates Radiator Hose Lower – 05-1894 $30
Throttle Controller
WINDBOOSTER ELECTRONIC THROTTLE CONTROLLER LY7 3.6L V6 $180 – Great for throttle controlling off road smoother.
Ultimate 9 EVC703L – EVC finally confirmed their support for throttle controller for the Adventra V6 Only. Search model EVC703L plug and play like the wind booster expect to be around $200 on special, or $300 RRP.
Manifold Inlet Spacer
MACE PERFORMANCE MANIFOLD INSULATOR KIT LY7 3.6L V6 $160 – Increase on low end torque extremely helpful off road, low gain for simple bolt on – non proven gains, but increases access to plugs.
Untested Notes
Safari SS960HF Snorkel – Fitment (v6 or VZ+ V8 only) as proposed positions for cut in will be above the airbox position as discussed with Safari. Snorkel project has been pulled, we are now looking to relocate intake under bonnet but protected from bow/pressure. Expected retaining water level 700mm crossing safe.
We ended up using a 65 series Hilux passenger side snorkel and fabricated an install, been running for 12 month and it has done the job great. Approx. $150 in materials all up plus some time. Start with part 1 here and see if it's something you want to do.. https://www.youtube.com/watch?v=gNNLF68lzpI
LY7 Manifold Notes
Spark Plugs: 16-20Nm
Coil Pack anchor: 7-11Nm
Upper Intake Manifold Bolts: 23Nm
LY7 Injectors
2006 GM 12609418 (Blue) 06 does work with 05, unsure what's exactly different other than color. Approx $500 for a set of 6 if genuine.
2005 GM 12571159 (Black) 05 does work with 06, unsure what's exactly different other than color. Approx $450 for a set of 6 if genuine.
LY7 Oil Pressure Sensor/Switch/Pickup
2005 – 2006+ GM 12621649 aftermarket between $20-$40 (Genuine should be $70+)
GM 12566837 comes up as the correct part for the oil pickup seal/o-ring but now displays as GM 12691257 (revised) part which has superseded the previous part number and is the official substitute for GM 12566837 & 12615569 seals/o-rings. Expect to pay $20-30
LY7 Water Pump – Purchase GATES GWP5000 Water Pump Here
2005 – 2006+ GM 12566029 ~$50 also GATES GWP5000 is what we use on replacement
LY7 Timing Chains
GM 92509866 is for the chains up to vehicles with VIN starting with 6L859056 which is most V6 Adventra's although if you are past this VIN range you will need GM 92511366 as this is the one used generally post 2006 Alloytecs in late VZ's VE commodore ranges. Expect to pay around $800 for genuine timing chain kits without gears most of the time you will not need gears if doing timing chain due to codes P0008, P0009 P0016, P0017, P0018 & P0019, there are some aftermarket ones pricing between $450-600 as well. Timing chains can be done while the engine is in the vehicle and is a days job if you have an idea of what you are doing. Workshops will generally charge you 5-7 hours in labor for timing chains ontop of costs for new seals, gaskets and chain kit.
Drive Belts
Water pump and air conditioning GM92066640 Dayco 6PK1255 – Purchase Genuine Dayco 6PK1255 Serpentine Belt Here
Power Steering and alternator GM 92066639 Dayco 6PK1460 – Purchase Genuine Dayco 6PK1460 Serpentine Belt Here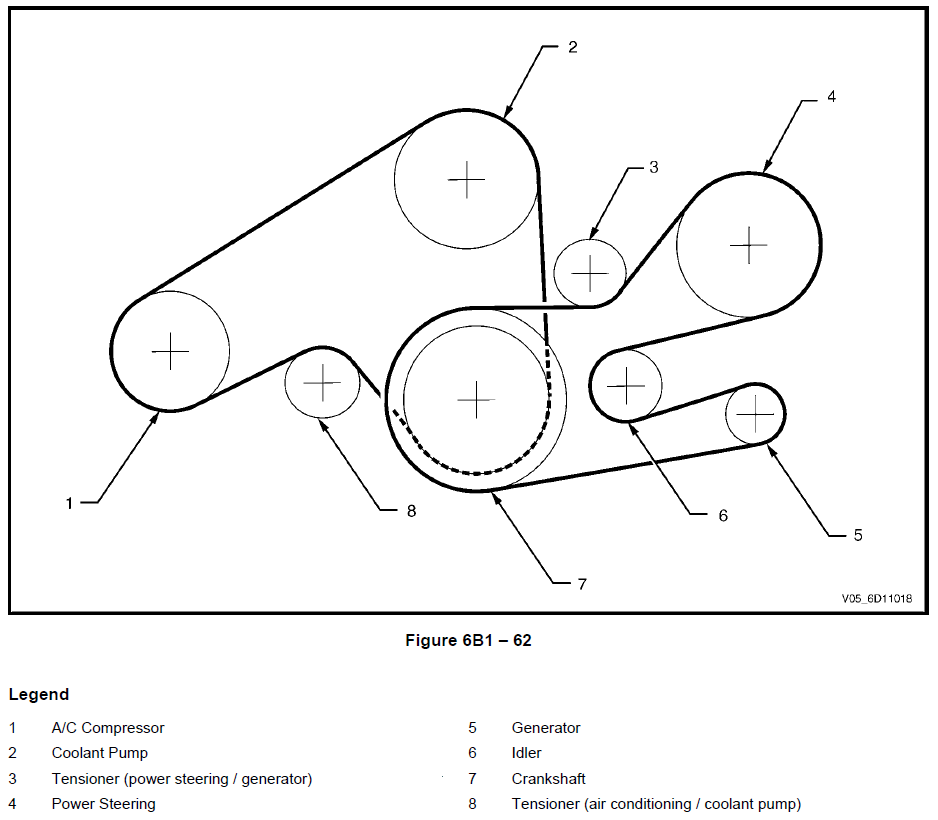 Cooling
VZ V6 5L40E and V8 4L60 Passive Transmission Cooler (100% required for V8, it will save your transmission… V6 is optional however highly advise it if off road use) – PWR 6690 (also listed as PWO6690) around $200-250 delivered.
Spare Hose Set Gates Radiator + Heater Hose Kit V6 VZ This kit is the one we carry, includes full replacement so you're never short off road during a failure – https://www.ebay.com.au/itm/143163137060 we carry a full set always in the Adventra if we use one we snap a photo and replace it with one from supercheap. Its easier to buy this kit then you know you have all the right part numbers and items.
Bearings – Purchase Genuine NSK Front Wheel Bearing Assembly Here
Front left and right are the same item, they are not directional and we have tried the cheap $100 version and premium NSK made in Japan ~$300 version (per side). For off road you must get the NSK version if you don't you'll be changing them again in 1-2years times or less than a year if going off road. Poor man buys twice, once replaced with NSK's we've not yet needed to change them again.
Purchase Genuine NSK Rear Wheel Bearings Here can be a lengthy job if never done before, but achievable with a cheap bearing kit as the hardest part of the job is to get the existing bearing out. Remove hex 8mm bolts holding the rear CV, once removed unbolt the collar nut and remove the locking plate, you then can tap the rear outer wheel driveshaft outward, once removed remove the retaining clip on the outside of the hub, and use a bearing kit from the inside to push the existing bearing race out. Once everything is out clean and install the replacement bearing in the reverse order using the old bearing outer race on top of the new bearing outer race to tap gently back in until seated to reinstall the retaining clip. Press/tap in the rear outer wheel driveshaft into the inside of the bearing been careful to do it evenly until seated and reverse the order of the collar bolt removal process to reinstall everything.
Lights
The Rear Brake/Parker Globe Should be OE spec Philips P21/5W (Twin filament, clear globe), it seems the Phillips brand lasts longer than the Narva brand ones bulbs, expect to pay around $20 for a pair. They are not the same as commodore globes.
Rear Light Assembly DRIVER SIDE GM 92185148 PASSENGER SIDE GM 92185147
HVAC – Heating, ventilation, and air conditioning system
Are you having issues under acceleration that the air vent changes from front to windscreen and then back again? You may need to replace an actuator they are easy to do most common one is GM 92140681 ~ $80 new. There are 3 but it's very common that the driver-side one is the one to go accessible from the kick panel behind the center console.
Engine Compression Alloytec LY7 Troubleshooting
The lowest reading should not be less than 70 percent of the highest reading.
No cylinder reading should be less than 965 kPa (140 psi).
If a cylinder has low compression, inject approximately 15 ml (1 tablespoon) of engine oil into the combustion chamber through the spark plug hole. Measure the compression again and record the reading.
Normal — Compression builds up quickly and evenly to the specified compression for each cylinder.
Piston Rings Leaking — Compression is low on the first stroke. Compression builds up with the following strokes but does not reach the normal compression amount. Compression improves considerably when you add oil.
Valves Leaking — Compression is low on the first stroke. Compression usually does not build up on the following strokes. Compression does not improve much when you add oil.
If 2 adjacent cylinders have lower than normal compression, and injecting oil into the cylinders does not increase the compression, the cause may be a head gasket leaking between the cylinders.
Cylinder leakage that exceeds 25 percent is considered above acceptable and may require component service. In the above acceptable leakage situations, inspect for the following conditions:
Air leakage sounds at the throttle body or air inlet hose may indicate a worn or burnt intake valve or a broken valve spring.
Air leakage sounds at the exhaust extension pipe may indicate a worn or burnt exhaust valve or a broken valve spring.
Air leakage sounds from the crankcase, oil level indicator tube, or oil fill tube may indicate worn piston rings, a damaged piston, a worn or scored cylinder bore, a damaged cylinder block, or a damaged cylinder head.
Air bubbles in the cooling system may indicate a damaged cylinder head or a damaged cylinder head gasket.
Perform the leakage test on the remaining cylinders and record the values.
Adventra VY2 LS1
Genuine GM Holden Commodore & HSV LS7 Upgrade Lifters LS1 LS2 LS3 L76 L98 GM 12499225